"We delight in the beauty of the butterfly, but rarely admit the changes it has to go through to achieve that beauty." – Dr. Maya Angelou
Hi and welcome! I created this space to share information about my book, Your Hidden Superpowers: How the Whole Truth of Failure Can Change Our Lives, and my work more generally, including my research in the area of human flourishing. I hope you find something that intrigues you. For speaking requests, please use the "Contact Becca" link.
About the Book
Your Hidden Superpowers: How the Whole Truth of Failure Can Change Our Lives reveals that the way we think about failure affects our lives powerfully, often in ways we don't see. The way that most of us view failure—the prevailing view—is that failure is bad. This book challenges that conventional view and illuminates how it is false. The prevailing view of failure is only a slice of the truth, yet this partial truth has a full-blown consequence. It shapes the way we lead our lives, holding us back and leading us to stay well within the bounds of what is possible. As a result, the way we view failure blocks us from tapping our full potential.
This book aims to expose the whole truth of failure by taking a fresh, frank look at the topic. It unveils the hidden dimensions of failure's stunningly powerful bright side, takes an unflinching look at failure's dark side, and spotlights cutting-edge, conventional-wisdom-defying research that redefines what it means to respond well to failure.
Your Hidden Superpowers draws on science + stories, including my research and that of other experts as well as personal interviews I conducted with inspiring, well-known individuals from a wide range of fields: poetry and literature, politics, sports, education, business, and, more generally, leadership. By drawing on a sweeping range of sources, including science, literature, philosophy, speeches, biographies, and popular culture, this book aims to rewrite the story we tell ourselves about failure. It also puts forth a vision of how shifting our view of failure would shift how we lead our lives and ultimately yield profound benefits for us as individuals and as a society by exposing hidden resources within us—innovations, breakthroughs, joy, meaning, and magic yet to be discovered.
This book aims to spark a cultural shift in how we view failure.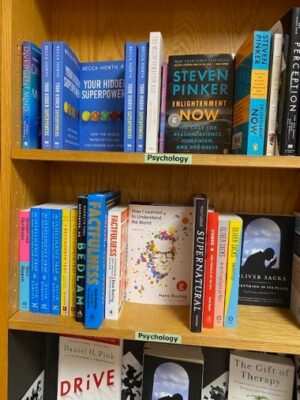 Your Hidden Superpowers is available on Amazon and also at BookPeople, an independent bookstore in Austin, Texas. The picture of the book on a shelf here was taken at BookPeople.